Family Life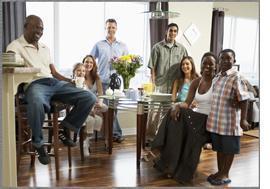 The WonderWise Parent is a website designed for parents, grandparents, foster parents, stepparents, caregivers, teachers, and parent educators. It was created and is maintained by Dr. Charles A. Smith, Extension specialist with Kansas State Research and Extension in the School of Family Studies and Human Services at Kansas State University.
If you ask parents if they have any questions about child rearing, they are likely to respond with a concern about child guidance. The Responsive Discipline online course will lead you through a series of lessons about discipline for your own personal study.
CoupleTALK - Enhancing Your Relationship is a booklet and activity cards to help each couple find ways to communicate better and enrich their relationship.
Related Information
Parenting
Developmental Milestones: Guide for Parents, 1st Year
Developmental Milestones: Guide for Parents, 2nd Year
Developmental Milestones: Guide for Parents, 3rd Year
Developmental Milestones: Guide for Parents, 4th Year
Developmental Milestones: Guide for Parents, 5th Year
Choosing Care for your Children - Child Care Homes
Choosing Care for your Children - Child Care Centers & Preschools
The New Screen Time - Beyond Television & into the Future
Step-families
Taking time to Think about My Step-family
Building a Strong Couple Relationship
Understanding a Child's Realities
Understanding Financial and Legal Matters
Family Communications