Supplemental Nutrition Assistance Program
(or SNAP-Ed as it is best known)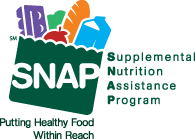 Kansas SNAP-Ed, formerly known as the Family Nutrition Program, is a nutrition education program provided at no cost to Kansas families with limited resources. Our goal is to provide nutrition education to individuals and families who receive food assistance or who are eligible to receive food assistance.
The Supplemental Nutrition Assistance Program Education is sponsored by the USDA through a contract with the Department for Children and Families (DCF) and implemented by Kansas State Research and Extension.
The strength and reach of Marais des Cygnes District SNAP-Ed are due, in large part, to the collaborative efforts of Extension, local community agencies, and organizations that share a common concern for the welfare of limited resource residents.
Qualifying Audiences We Serve:
Elementary Schools
High Schools
Senior Centers
Libraries
After School Programs
Other Qualifying Adult Audiences
SNAP-Ed provides evidence-based, interactive nutrition and physical activity education for families, seniors, and children. We help those we serve: Enjoy more fruits and vegetables, Choose and prepare nutritious meals and snacks, Develop budgeting, shopping and cooking skills, and Use safe food handling, preparation and storage practices
Program Resources

SNAP-Ed, formerly known as the Family Nutrition Program (FNP)